Samouczek: Praca z sektorami i branżami (Working with sectors and industries)
W programie AmiBroker istnieje możliwość klasyfikowania akcji do różnych kategorii, pozwalając w ten sposób (po właściwym zaszeregowaniu) skierować Twoje poszukiwania w kierunku akcji, spełniających określone kryteria selekcji (dzięki elementowi Filter dostępnemu w oknie Quick Review i Automatic Analysis). Początkowo zorganizowanie kategorii może być nieco skomplikowane, szczególnie gdy pragniesz śledzić kilka tysięcy akcji. Artykuł ten będzie dotyczył ustawienie sektorów i branż oraz przydzielenia do nich akcji. Na początek omówione zostaną podstawowe problemy.
Podstawy - predefiniowne sektory i galęzie przemysłu
AmiBroker dostarcza przykładową bazę danych Dow Jones dla poszczególnych branż, która zawiera przeciętnie 30 składników najsłunniejszych światowych giełd. Są one przydzielane do predefiniowanych sektorów i branż. Sektory i branże są identyczne jak na stronie Yahoo finance. Zostały one zestawione w poniższej tabeli:
Sektor
Branża
Basic Materials  (0)
Chemical Manufacturing
Chemicals - Plastics & Rubber
Containers & Packaging
Fabricated Plastic & Rubber
Forestry & Wood Products
Gold & Silver
Iron & Steel
Metal Mining
Misc. Fabricated Products
Non-Metallic Mining
Paper & Paper Products
Capital Goods (1)
Aerospace & Defense
Constr. - Supplies & Fixtures
Constr. & Agric. Machinery
Construction - Raw Materials
Construction Services
Misc. Capital Goods
Mobile Homes & RVs
Conglomerates (2)
Conglomerates
Consumer Cyclical (3)
Apparel/Accessories
Appliance & Tool
Audio & Video Equipment
Auto & Truck Manufacturers
Auto & Truck Parts
Footwear
Furniture & Fixtures
Jewelry & Silverware
Photography
Recreational Products
Textiles - Non Apparel
Tires
Consumer/Non-Cyclical (4)
Beverages (Alcoholic)
Beverages (Non-Alcoholic)
Crops
Fish/Livestock
Food Processing
Office Supplies
Personal & Household Prods.
Tobacco
Energy (5)
Coal
Oil & Gas - Integrated
Oil & Gas Operations
Oil Well Services & Equipment
Financial (6)
Consumer Financial Services
Insurance (Accident & Health)
Insurance (Life)
Insurance (Miscellaneous)
Insurance (Prop. & Casualty)
Investment Services
Misc. Financial Services
Money Center Banks
Regional Banks
S&Ls/Savings Banks
Healthcare (7)
Biotechnology & Drugs
Healthcare Facilities
Major Drugs
Medical Equipment & Supplies
Services (8)
Advertising
Broadcasting & Cable TV
Business Services
Casinos & Gaming
Communications Services
Hotels & Motels
Motion Pictures
Personal Services
Printing & Publishing
Printing Services
Real Estate Operations
Recreational Activities
Rental & Leasing
Restaurants
Retail (Apparel)
Retail (Catalog & Mail Order)
Retail (Department & Discount)
Retail (Drugs)
Retail (Grocery)
Retail (Home Improvement)
Retail (Specialty)
Retail (Technology)
Schools
Security Systems & Services
Waste Management Services
Technology (9)
Communications Equipment
Computer Hardware
Computer Networks
Computer Peripherals
Computer Services
Computer Storage Devices
Electronic Instruments & Controls
Office Equipment
Scientific & Technical Instr.
Semiconductors
Software & Programming
Transportation (10)
Air Courier
Airline
Misc. Transportation
Railroads
Trucking
Water Transportation
Utilities (11)
Electric Utilities
Natural Gas Utilities
Water Utilities
Ważne jest by zrozumieć różnicę pomiędzy sektorem a branżą: branże "należą" do sektorów, np. branże takie jak "Air Courier", "Airline", "Railroads", "Trucking" należą do sektora "Transportation". Zatem jeżeli akcja jest przydzielona do określonej branży, jest ona również "automatycznie" przydzielona do odpowiedniego sektora.
W przykładowej bazie danych DJIA każda akcja jest przydzielona do określonej branży, np. GM (General Motors) iest przydzielony do gałęzi przemysłu "Auto & Truck Manufacturers", a w związku z tym GM należy do sektora "Consumer/Cyclical".
Program AmiBroker może obsługiwać 64 sektory i 256 branż.
W jaki sposób przydzielić akcje do danej branży?
Można zmienić branżę, do której dana akcja jest przydzielona za pomocą Symbol->Informacje (Information) pole wyboru Industry.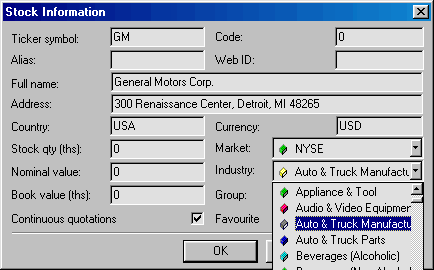 lub używając Symbol->Organizuj przypisania (Organize Assignments).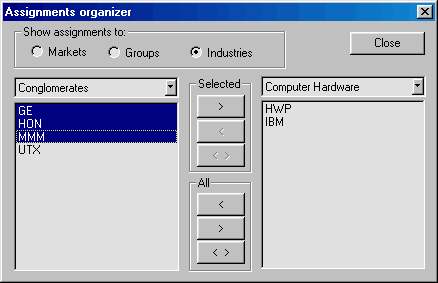 Pierwsza z tych metod jest dogodniejsza w sytuacji, gdy pragniesz zmienić ustawienia dla pojedynczej akcji. W przeciwnym razie - gdy zamierzasz przenieść kilka akcji z jednej kategorii do drugiej, wówczas wygodniej będzie zastosować drugą metodę.
W jaki sposób zdefiniować własne sektory i gałęzie przemysłu?
W tym celu należy skorzystać z okna dialogowego Categories w menu Stock. W oknie tym dwa ostatnie pola to "Sectors" i "Industries". Najpierw należy podświetlić pole "Sectors", ukaże się wówczas lista nazw 64 sektorów. Można wtedy wybrać odpowiedni sektor klikając jednokrotnie na jego nazwie oraz edytować jego nazwę po wciśnięciu ENTER lub kliknięciu przycisku "Edytuj (Edit name)". Naciśnij ponownie ENTER w celu zaakceptowania zmiany nazwy.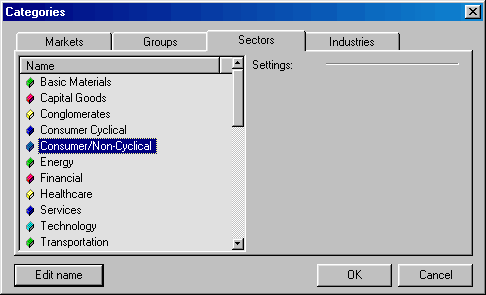 Po dokonaniu zmiany nazwy sektorów możesz podświetlić pole "Industries". Analogicznie jak w poprzednim przypadku należy teraz w ten sam sposób wybrać branżę z listy oraz edytować jej nazwę. Tutaj możesz również przypisać aktualnie wybraną gałąź przemysłu do sektora, w którym chcesz ją umieścić.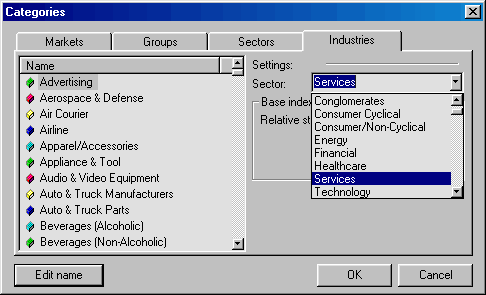 Gdzie są przechowywane informacje o sektorach i branżach?
Zasadniczo informacje te są przechowywane w bazie danych programu AmiBroker. Nazwy sektorów oraz gałęzi przemysłu wraz z ustawieniami są przechowywane w pliku broker.workspace (w folderze workspace). Pliki z danymi o akcjach zawierają jedynie informacje o tym, do której gałęzi przemysłu została przypisana dana akcja (IndustryID).
Poczas tworzenia nowej przestrzeni roboczej workspace (bazy danych) program AmiBroker organizuje Twoje sektory i gałęzie przemysłu według szablonów przechowywanych w plikach "broker.sectors" and "broker.industries". Są one zwykłymi plikami tekstowymi, które mogą być edytowane przy użyciu prostego edytora tekstu (takiego jak Notepad). Pliki te mogą również być zastosowane w celu szybkiego i automatycznego zorganizowania sektorów i gałęzi przemysłu. Program AmiBroker dostarcza predefiniowane broker.sectors oraz broker.industries, które podlegają opisanym wcześniej konwencjom (patrz tabela). Możesz przepisać pliki broker.sectors i broker.industries w celu zdefiniowania swojego własnego domyśnego schematu. Zatem pliki "broker.sectors" i "broker.industries" są wykorzystywane jako szablony podczas tworzenia nowej przestrzeni roboczej. Po jej utworzeniu pliki te nie są już brane po uwagę. W ten sposób możesz mieć różna kategorie w każdej przestrzeni roboczej. Jeżeli chcesz by program AmiBroker załadował je do istniejącej już przestrzeni roboczej wykazuj plik broker.workspace zanim otworzysz przestrzeń roboczą.
The layout of broker.sectors file is very simple: it is plain text file holding sector names written line by line as shown below:

Basic Materials
Capital Goods
Conglomerates
Consumer Cyclical
Consumer/Non-Cyclical
Energy
Financial
Healthcare
Services
Technology
Transportation
Utilities
The layout of broker.industries is similar, but in addition to industry names there is a number at the beginning of each line:
8 Advertising
1 Aerospace & Defense
10 Air Courier
10 Airline
3 Apparel/Accessories
3 Appliance & Tool
3 Audio & Video Equipment
3 Auto & Truck Manufacturers
3 Auto & Truck Parts
4 Beverages (Alcoholic)
4 Beverages (Non-Alcoholic)
7 Biotechnology & Drugs
8 Broadcasting & Cable TV
8 Business Services
8 Casinos & Gaming
0 Chemical Manufacturing
0 Chemicals - Plastics & Rubber
5 Coal
9 Communications Equipment
The numbers at front of industry names are "Sector IDs". Those numbers decide to which sector given industry belongs to. Because several industries may belong to one sector - you may need to put the same number for sector Id. Sector IDs are zero based, which means that 0 refers to the first line (sector name) of "broker.sectors" file, while 7 refers to the eighth line of this file. In the example above: "Advertising" industry belongs to "Services" sector, while "Aerospace & Defence" industry belongs to "Capital Goods" sector.
If you don't want to setup detailed industry information and want assign stocks only to sectors you can define one-to-one relationship between first 32 industries so they will be equivalent to sectors. Using the broker.sectors as show earlier in this article 1-1 broker.industries file would look like:
0 Basic Materials
1 Capital Goods
2 Conglomerates
3 Consumer Cyclical
4 Consumer/Non-Cyclical
5 Energy
6 Financial
7 Healthcare
8 Services
9 Technology
10 Transportation
11 Utilities
Note that this file is essentially the same as broker.sectors with the only difference that we have consecutive numbers prepended to each line. Using this kind of setup setting the industry will be equivalent to setting the sector.
Making it automatic
As described above stock and industries names and relationship can be easily set up quickly using "broker.sectors" and "broker.industries" files. It will save some work needed otherwise to enter this information in Stock->Categories window.
Unfortunately a lot more work is needed to assign all stocks to the industries even using Stock->Organize Assignments dialog. Fortunately there is a way to save a lot of work using AmiBroker automation interface and scripting. The detailed description of how to accomplish this task and ready-to-use script is presented in the 4th issue of AmiBroker Tips newsletter.