Commentary window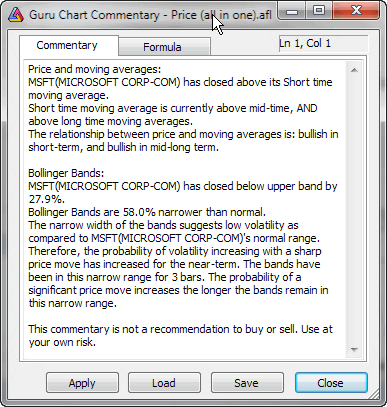 Commentary window enables you to view textual descriptions of actual technical situation on given market.
Commentaries are generated using formulas written in AmiBroker's own formula language. You can find the description of this language in AmiBroker Formula Language Reference Guide.
Moreover Commentary feature gives you also graphical representation of buy & sell signals by placing the marks (arrows) on the price chart.
Newbies should read "Tutorial: How to write your own commentary" for step-by-step instructions and working with AFL editor.
"Refresh" button causes AmiBroker to reinterpret the commentary using currently selected symbol/date.
"Load" and "Save" buttons allow to load/save commentary formulas.
"Close" button closes the commentary window.
Now the Guru chart commentary window is automatically updated and sychronized with the date selected on the chart using "Pick" selector tool. This way you can easily read any indicator value on any selected date right off the chart commentary window.