May 18, 2017
AmiQuote 3.14 has been announced here: http://www.amibroker.com/devlog/2017/05/17/amiquote-3-14-released/
AmiQuote 3.14 is not a standalone installer, therefore – it requires AmiBroker installed on your computer and the installation path should point to the folder where AmiBroker is installed.
To run the installer – use the link at:
http://www.amibroker.com/members/bin/early_aq3140.exe
This is members-only download. The access to this early testing version you need to be registered AmiBroker user.
General public version will be available later, probably sometime in June.
32-bit version of AmiBroker
If you are running 32-bit version of AmiBroker, please make sure to point AmiQuote installation into the correct folder. The default installation path is the following: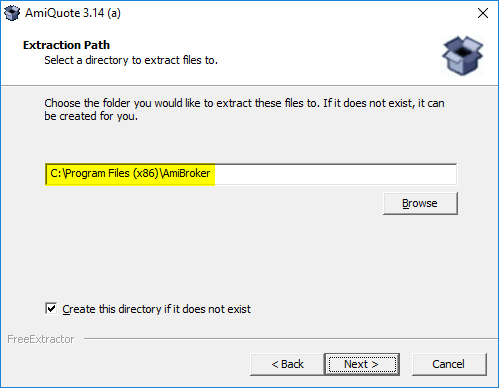 64-bit version of AmiBroker
The default installation path of 64-bit AmiBroker version is the following: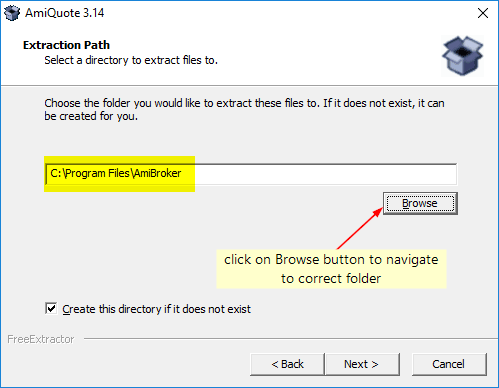 Users with both 32- and 64-bit versions of AmiBroker installed can also just copy Quote.exe file from AmiBroker/AmiQuote folder and aqh.format from AmiBroker/Formats folder from 32- into 64-bit installation folder after AQ 3.14 has been installed into AmiBroker installation.
then paste into respective folder of 64-bit installation: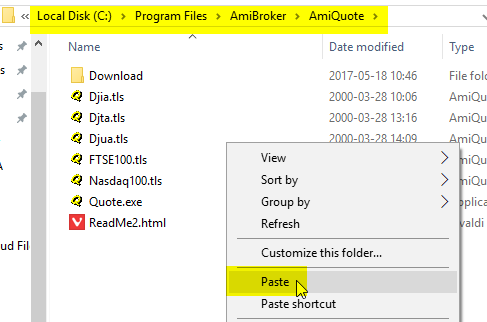 The same steps are requires for aqh.format file in AmiBroker/Formats folder.
TROUBLESHOOTING:
If you are getting "Failed to update registry, use REGEDIT" message, then you need to run AmiQuote at least once with administrator rights – to do so click on AmiQuote icon with right mouse button and select "Run As Administrator"
If you are getting close and volume data exchanged then it means you did not install properly the program and updated aqh.format file is missing. You must make sure that aqh.format file inside Formats directory is NEW (from May 17, 2017). It is included in the setup program so just follow instructions above.
If you are not able to download more than 2 years worth of data it means you entered too early "From" date. For example if you enter 1900 as "from" date you won't get more than recent 2 years. But if you enter more resonable starting date such as year 2000, then you will be able to download 17 years worth of data
The download hangs on Windows XP – new Yahoo Finance pages are incompatible with Windows XP, and specifically with Internet Explorer 9 or lower that Windows XP shipped with. Windows XP is obsolete and not supported anymore by Yahoo. You need at least Internet Explorer 10 to be installed (Windows 7)
If it still does not work – you did something wrong. The program works fine, as long above steps are PRECISELY done. Rinse and repeat until it clicks.

Filed by Tomasz Janeczko at 3:05 pm under AmiQuote,Troubleshooting
No Comments